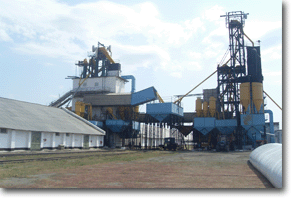 It isn't easy to grow bumper crop. But it is more difficult to keep it the same. "Retain and increase" – this is the objective, that company staff should realize.
Kind of activity: acceptance, storage, undermining, drying, shipment of grain, branch line service.
In the market of services it has been working since May, 2001.
"PAB (Place of acceptance of bread) Perelesky" LLC can simultaneously store grain in warehouses in volume of 28,2 thousand tons, also there are 8 open grounds, total area of which is 16000 m2.
The enterprise has its own laboratory on grain quality assessment, which is equipped by all necessary analytic equipment
The undermining of grain is made with the help of modern grain separator for preservation of grain and finishing its standard up to base.